The Burren Wall
by Gordon D'Arcy
Gordon D'Arcy is a naturalist, environmental educator and artist.
He has published several books including the Natural History of the Burren (Immel, 1992) and contributed chapters to the Book of the Burren (Tir Eolas, 1991 & 2001) and the Book of Aran (Tir Eolas, 1994).
This book, the culmination of many years spent investigating this remarkable limestone land, is replete with his photographs and illustrations. He lives with his wife Esther-Mary in south Galway, a few miles from the edge of the Burren.
2006, 64pp, 155 x 230mm, 82 colour illustrations & photographs
Subject: Natural and Social History
ISBN 1-873821-16-6
Paper Back: Euro 12.00 (excluding postage)
BUY THIS BOOK | BACK TO CATALOGUE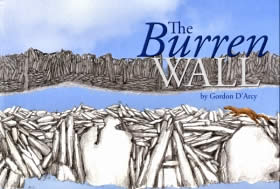 Below are two examples of images in the book.
(Please click on them for a larger version)